ProClad Uncured Rolls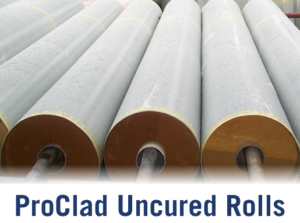 General Description
A glass-reinforced plastic (GRP) delivered on rolls as a tacky solid and cured by exposure to light. The curing mechanism is relatively unaffected by ambient temperature – ProClad Uncured Rolls can be cured at minus 15C. Unlike many polymers, the active curing ingredient is very stable until exposed to light when it cures the polymer rapidly. ProClad Uncured Roll can be stored in temperatures below 25C for twelve months and can be cured in less than sixty minutes.
Technical Data Sheet
SDS
Adhesive SDS
ProClad Application Movie (Coming Soon)
ProClad Tank Installation Movie (Coming Soon)
ProClad Piping Brochure
ProClad Products Brochure
ProClad Insulation Features and Benefits
ProClad Tank Head and Panel System Video
ProClad Straight Install Video
ProClad Two Piece Straight Install Guide Video
ProClad Bend Install Video
ProClad Reducing Endcap Install Video
Roll Dimensions
Up to 1 m wide by 10 m length
Thickness: 1-2.5 mm.
Key features
mechanically strong with good flexural and tensile strength
highly resistant to foot traffic
excellent adhesion to steel at terminations
good resistance to UV and chemicals
cures in less than sixty minutes
easily applied
great for pre-insulated modules and vessels.
ProClad Uncured Rolls
This grade has been developed specifically for its fire and smoke properties, to meet the requirements of the offshore oil and gas and maritime markets as well as some of the more stringent onshore oil and gas requirements. ProClad Uncured Rolls are difficult to ignite, have a short burn time, self-extinguish and have low levels of smoke. The system contains no halogens and therefore when burnt releases no toxic gases or dense black smoke.
The Independent Fire Tests successfully passed include ASTM E84 15/50 and ASTM E1317.
This grade has been specified by leading oil and gas companies and CINI to clad and seal insulation materials. ProClad Uncured Roll is usually specified in the temperature range from -160C to +120C to prevent heat gain and Corrosion under Insulation "CUI".
ProClad Uncured Roll has been applied successfully in very cold climates and very wet climates like Southeast Asia petrochemical plants as well as Europe and the Middle East.