ProClad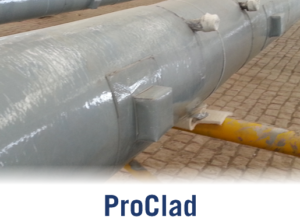 General Description
A glass-reinforced plastic (GRP) delivered as pipe sections for application over insulation and sealed at overlaps with adhesive. We also supply a range of moldings for bends/tees, fittings and valve boxes.
Pre-cured vs. Uncured GRP
Technical Data Sheet
SDS (Safety Data Sheet)
Adhesive Technical Data Sheet
Adhesive SDS
ProClad Application Movie (Coming Soon)
ProClad Tank Installation Movie (Coming Soon)
ProClad Piping Brochure
ProClad Products Brochure
ProClad Insulation Features and Benefits
ProClad Tank Head and Panel System Video
ProClad Straight Install Video
ProClad Two Piece Straight Install Guide Video
ProClad Bend Install Video
ProClad Reducing Endcap Install Video
Dimensions
Up to 1 m long
Thickness: 1-2.5 mm
Diameter: Wide range of sizes available
Available in most colors
Key features
mechanically strong with good flexural and tensile strength
good resistance to UV and chemicals generally
easy installation
developed to protect pipe insulation and combat Corrosion under Insulation "CUI" and heat gain
can be used in conjunction with ProClad Uncured, or ProClad Adhesive to form permanently sealed systems
alternative adhesives can be used to provide a cladding which is fully sealed but can easily be opened up for inspection and then resealed
ideal for indoor applications or where UV is difficult obtain
available in one or two piece, based on size
ProClad
This grade has been developed specifically for its fire and smoke properties, to meet the requirements of the offshore oil and gas and maritime markets as well as some of the more stringent onshore oil and gas requirements. This grade is difficult to ignite, has a short burn time, self-extinguishes and has low levels of smoke. The system contains no halogens and therefore when burnt releases no toxic gases or dense black smoke.
The Independent Fire Tests successfully passed include ASTM E84 – 15/50 and ASTM E1317.